---
International Holocaust Remembrance Day
Today, the Tatra Gallery in Poprad commemorates the victims of the Holocaust through Ivan Kőhler's exhibition entitled Residence of Death – Jude's Fate. The exhibition of photographic panels is part of the international project ART & HOLOCAUST, which, through its activities in cooperation with several Slovak partners and a partner institution from Norway, brings a view of the suffering of the Jewish and Roma national minorities during the Second World War.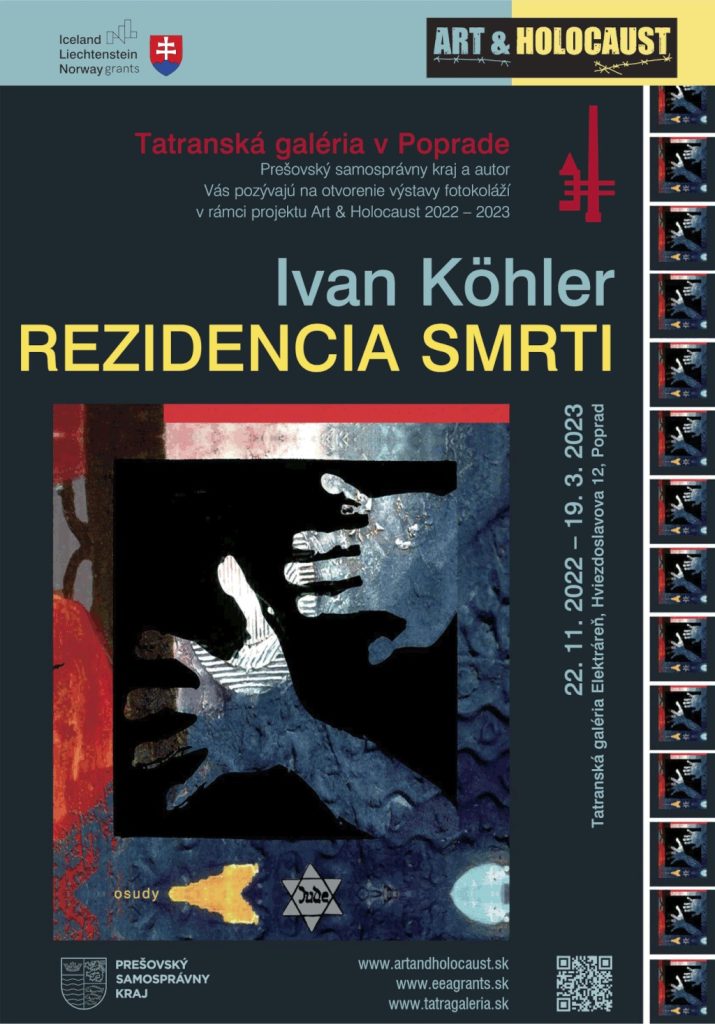 January 27 is commemorated by the public as International Holocaust Remembrance Day. It was announced on November 1, 2005, on the basis of a resolution at the General Assembly of the United Nations on the occasion of the 60th anniversary of the liberation of the largest Nazi concentration and extermination camp, Auschwitz (in Auschwitz, Poland), which has become a symbol of the Holocaust.
In Germany, January 27 has been commemorated since 1996 as the Day of Remembrance of the Victims of National Socialism.
The purpose of this day is to commemorate the suffering of millions of victims of the Holocaust during the Second World War every year, so that the sad history will never be repeated. Israel, the United States of America, Canada, Australia and Russia proposed the inclusion in the list of memorial days. It was supported by 91 UN member states. In addition to the Jewish ethnicity, which was the primary focus of the Nazis, the extermination also affected other ethnic, religious and political groups (chronologically: political opponents (especially communists and social democrats), Jehovah's Witnesses, the physically or mentally disabled, homosexuals, Jews, Roma, Poles and citizens of the Soviet Union. About 6 million Jews were murdered as part of the genocide aimed at the Jewish ethnicity. [2][3] If we understand the Nazi persecution as a whole by the term Holocaust, we are talking about the number of victims of the Holocaust between 11 and 17 million people. Source wikipedia.)
In Slovakia, in addition to January 27, we remember the victims of the Holocaust on the memorial day of the victims of the Holocaust and racial violence, which in our country falls on September 9. As the Holocaust Documentation Center states on its website: "It refers to a specific event – the acceptance of the so-called Jewish code. The Government of the Slovak People's Republic adopted the so-called The Jewish Code (Regulation on the Legal Status of Jews No. 198/1941 Coll. Coll.) of September 9, 1941. The Code was the most extensive legal norm of the wartime Slovak state. It contained a total of 270 paragraphs. In them, he mainly summarized the anti-Jewish legislation in Slovakia up to that time. However, it also contained new elements, primarily a new definition of the term Jew on a racial basis. He also introduced the term "Jewish mixed race" into the legal order.
---
Photos from conference and theatre perfomance in photogallery.